2020 is a year many of us may wish to forget! However, what a year it has been for accelerating innovation and digital transformation in the newspaper & magazine sector. Shane Webster, Analyst, Media & Publishing takes us through his top industry predictions that the savviest publishers should be anticipating in 2021.
1. COVID-19 has expedited digital as the future
While going 'digital' was the plan for most publishers at some point, the pandemic has brought those deadlines forward, and those that have yet to adopt a digital model have found themselves racing to catch up. 2020 saw most media companies bringing their digital plans forward and at pace. 50% of publishers see reader revenue as being their primary source of income in 2021, while 35% believe that reader revenue and advertising revenue will be equally important. To achieve this, the race is on to pick up the pace in the digital revolution.
In the US in particular, digital is beginning to overtake print as the primary media consumption method – but print is still by no means dead, and many publications are still enjoying healthy print subscriber numbers, even if those numbers are remaining more or less stable compared to the growth of digital.
Publishers will be seeking to move away from the concept of 'print' and 'digital' operations as they consolidate all their subscriber operations into a single solution. Many are already offering bundled Print and Digital subscriptions, though separate infrastructure which is costly and inefficient. Moving to platforms that support customer management, bundled subscription management, and data analytics will be key.
2. Ad-spend will bounce back, but with cookies no longer an option, the rules will change
A recent study by Kantar showed that 64% of media owners are concerned about the changes in third-party cookies, and 48% of marketers fear they won't be able to reach targets without them. 56% of consumers are still concerned about privacy when it comes to sites tracking and using their personal data, even for targeted, relevant ads.

There is still an argument as to what the best alternative will be, but most bets are on first party data, collected directly by the publisher and used to drive ad targeting. Google's own Privacy Sandbox technology, while still in development, aims to give marketers the ability to target ads through Google's own platform rather than collecting third-party data directly. First-party data analysis will be largely AI-driven, with the results used to personalize front pages and content serving to specific customers. According to a report by the Digital News Report, 56% of their respondents in the publishing sector saw AI as an important driver of their acquisition and content management plans.
The most common solution so far is to collect first-party data as an alternative. The easiest way to do this is to require registration using a registration wall to view content. This user can then be tracked through their browsing habits and intelligently targeted with the right incentives to subscribe. Intelligent first-party data strategies will be key going into 2021 and beyond.
3. The 5G rollout opens up video content to the masses
The continued rollout and adoption of 5G network technology will drive more bandwidth-hungry content consumption. Video is already the most popular form of media consumption, and that is likely to grow further. For publishers, this means 4K video content and high-quality audio streams to supplement written content. Video content is increasingly important in telling stories in new ways, and engaging readers, and alongside written content is a powerful tool for driving subscriptions. Short and long-form video is already common with major publishers, but as this last year has shown, quality video content can be very cost-effective and has become far easier to produce, opening new opportunities for smaller publishers and organizations.
Media companies across multiple industries are seeking more ways to connect with their customers, and customers are seeking to connect with each other. With the explosive popularity of video-based social media channels, brands are seeking to focus on the channels that work best for them, rather than spread content across as many platforms as possible. Using influencers and celebrities in content has been a key strategy for many publishers already, using known faces to tell stories and share content in formats relevant to the platform being used. These platforms also build a community by allowing viewers to interact with each other, which will be a key driver for loyalty-led acquisition and retention.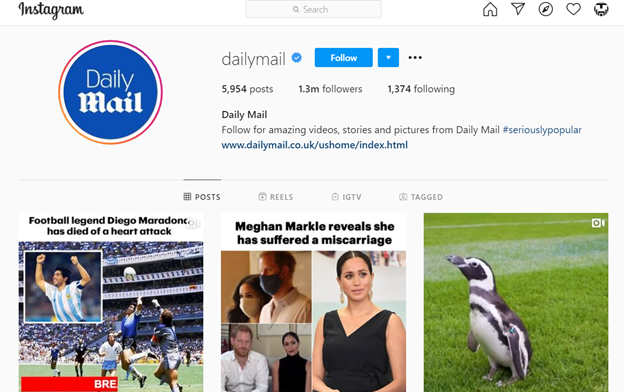 Source: Instagram
4. Podcasts are an untapped goldmine of engagement, revenue, and interactivity
On the topic of content, one of the biggest areas of growth in 2020 into 2021 was podcasting. The Guardian's Today in Focus Podcast won podcast awards this year. New York Times' The Daily is attracting 4 million listeners a day, and is in the top 3 most streamed podcasts on Spotify in 2020. The advertising and revenue potential of this medium is predictably massive as a result, with 55% of Americans now listening to podcasts regularly, and Europe catching up with 28% of the population engaging with podcast content.
Alongside news and opinion podcasts, Events podcasts are also set to grow in popularity as the 'new normal' sets in. Restrictions on large events, in particular, are likely to continue through 2021, so readers, fans and customers will be looking for other ways to engage with these live sports, eSports, music and other major events happening behind closed doors This includes punditry and predictions, reactions, and opinion on live games, and reactions or backstage content to live-streamed music.
There are several valuable strategies to monetizing podcasts including subscription models, as well as advertising, sponsorship slots and in-stream offers only available to podcast listeners.

Source: https://www.statista.com/chart/18051/podcast-penetration-rate-in-europe/
5. The Registration Revolution – Better UX and simpler registration leading to more data exchange
As mentioned previously, the change from cookies to third-party data means publishers will need to look at new ways to gather data during registration and subscription. This comes with a risk – casual readers may be turned away by lengthy registration forms just to read the occasional piece of content. The most forward-thinking publishers have already anticipated this and are experimenting with methods of encouraging registration signup in the most streamlined way possible.
The New York Times in the US, Torstar in Canada, and the Guardian in the UK are examples of publishers who have seen great reward from streamlining their value exchange with readers, requesting an email address for access. This trend is likely to continue, with publishers investing in their user experience to capture the most important data for registration and seeking additional ways to improve that data using additional forms/profile pages, tracking views and content, and interactions with other users.

The Toronto Star uses a simple registration form to gain customer data in exchange for content access (Source: https://www.thestar.ca)
6. More Ways to Pay with Annual Subscriptions and Virtual Wallets
More and more media companies will be seeking the stability of converting customers on an annual subscription over a monthly one. The advantages for subscribers are clear; often they are more cost effective overall than a monthly subscription, as well as not having to worry about failed payments down the line.
The rise of the Alternative Payment Method is expected to continue with PayPal, Google Pay, Apple Pay, and region-specific payment methods continuing to gain traction against traditional credit or debit card payments, becoming the most popular method of payment by 2023. Customers will increasingly expect their payment wallets to work wherever they go online, which allows for very light-touch registration, payment journeys and simplifying paywalls.

7. Dynamic personalization based on customer analysis will encourage subscribers
Social media such as Facebook and Instagram have been personalizing content such as ads for years, and much is said about TikTok's algorithms for clever content distribution. This expectation of content personalization is now also starting to be seen in other media as well. Publishers will need to look beyond the old model of static content monetization, at audience monetization using unique insight to actively shape each customer's individual experience.
This approach goes beyond just the content, serving a personalized registration and purchase journey to provide better value to the customer while increasing the chances of conversion. Data collection begins at the point of entry with first-party cookies, and tools such as Zephyr's suite can be used to show personalized landing pages. Customers who are unlikely to subscribe at full price can be shown personalized discounts, on content, which is most likely to encourage sign-up, and for customers already signed up, personalized content can be used to upsell additional subscriptions or products.
Conclusion
It's been a year of learning lessons and adapting by requirement, but those lessons are going to drive beneficial change in publishing for 2021. There's still a lot of uncertainty, but also great potential, in the changes to tracking cookies. Content creators learning to 'make do' and find ways to reach audiences with engaging content during the pandemic will transfer this new knowledge and skills do diversify their content offering. In-App purchasing and alternative payment methods like PayPal, Apple Pay, and Google Pay will almost become mandatory as consumers expect to use their secure wallets everywhere online.
Simply put, subscriptions will rise most rapidly where customers have a wide variety of relevant content in a number of different media, across different streams, with simple UX and their preferred payment methods accepted.
Ultimately, the digital revolution has been in progress for a while, but 2020 has forced the hand of progress and leaves 2021 open huge opportunity to those agile enough to adapt.
Key Takeaways
Digital growth will continue to accelerate, and digital/print bundles will continue to gain popularity
Publishers will need to look at their own data capture methods to continue collecting customer data
Ad spending will rise again after the dip of 2020
Mobile data technology will continue to fuel the rise in video content consumption
Podcast growth will continue, and monetization will create listener revenue opportunities
Simplified and Frictionless Registration and Checkout processes will be the consumer expectation
Credit Card will continue to lose ground to digital wallets and in-app payment as the preferred payment method
Data-led personalization of customer experiences will drive highly personal registration and subscription journeys, content placement, offers, and retention strategies
If any of the topics in this blog resonated with you, and you're looking for new ways to gain new subscribers, download our brand-new playbook "Subscriber-first Acquisition Strategies for Publishers".
We're here to help
If you are reviewing your publishing strategy, get in touch to arrange a demo of how we can unlock all the tools needed to succeed now, and in the future.
Contact our helpful team; Telephone +44 844 873 1418 or visit our contact us page.