In our recent whitepaper, "PAA: An unexpected challenge for General Insurers?" we examined some of the complexities associated with implementing PAA in the real world.
The top three challenges highlighted in our previous white paper were:
Data Sourcing & Granularity
Loss Component Calculation & Tracking
Calculation the LIC and LRC
This blog builds on the earlier white paper by outlining how these challenges can be addressed by the out-of-the box capabilities of the Aptitude IFRS 17 Solution. Over the course of this year, Aptitude Software has been working with our clients to design, implement, and test our PAA functionality at General and Composite Insurers to ensure their IFRS 17 projects continue to be successful.
Aptitude's IFRS 17 Solution: continually enhanced with client learnings and best practices
In developing our PAA functionality we have analyzed the text of the Standard and subsequent amendments and enhanced our solution accordingly. Now that the Standard has been finalized (June 2020) our focus has been much more on the practical aspects of implementation. In this regard we have learned what it really means to implement PAA by working with our clients, such as Swiss RE, FWD and Great Eastern General. Our product team and Centre of Excellence (CoE) have worked with our PAA clients to distill best practices and a common interpretation of the standard which are then built into the product. This means that all new clients benefit from the learnings of our existing clients as well as industry consensus on approaches to the standard.
What does this mean for new clients?
Clients can be confident that the solution will conform to the Standard and will be updated to reflect any changes
We have already encountered the major problems associated with PAA and know how to solve them
Our solution will continue to be enhanced to reflect best practices as market interpretation evolves
Our Implementation Consultants have worked on other IFRS 17 implementations and have access to the Aptitude CoE for advice and guidance to provide advice and examples
New clients can be confident that their PAA project will benefit from the experiences learned at other clients and be overseen by consultants who understand implementing IFRS 17. This reduces timescales, costs and risk.
Aptitude PAA Functionality
The diagram below outlines at a high level the constituent parts of the Aptitude IFRS 17 Solution that perform the key PAA requirements.
Items 1 and 2, represent the Aptitude Platform and Aptitude Calculate respectively, while AICE and AAH serve as the core solution components.
Diagram 1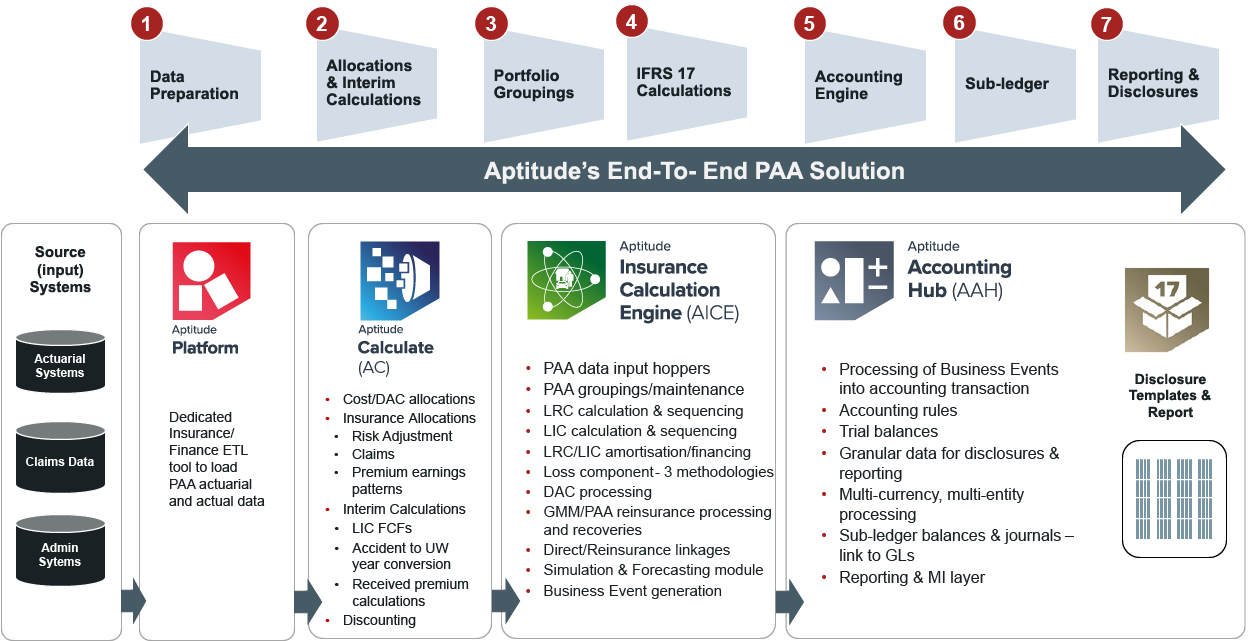 PAA Functionality Summary
Our PAA functionality has been significantly driven by client requirements. It has become clear that flexibility in the base functionality is critical to meet differing client interpretations.
Diagram 2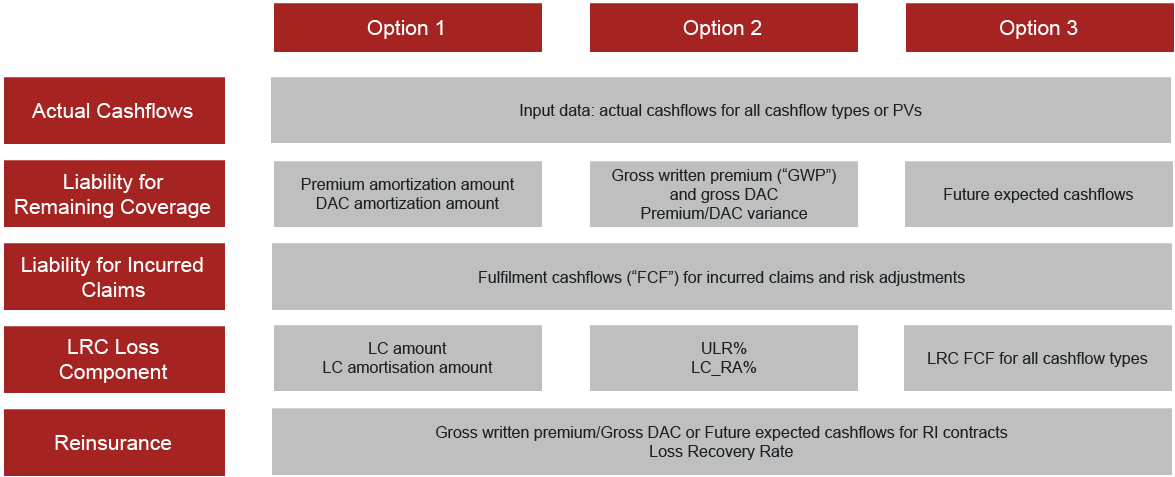 The above example highlights some of the flexibility we have built into the solution particularly in relation to the LRC and the loss component. This provides clients with various options dependent on the current UPR systems and business practices they have.
Here is a summary of the current PAA functionally in the solution. This is continually enhanced based on client experiences.
Category

Requirement Summary

Functionality

PAA Grouping

Managing IFRS 17 groupings and profitability testing

-Assignment to Cohorts
-Cohort Maintenance
-Pregrouping for Initial Measurement
-Degree of Profitability Thresholds (NSP)

Revenue Recognition/Cash Flows

Tracking, Release and Finance unwinds

-Maintain UEP / DAC Rolling Balance




-Profile-Based Rev Recognition




-Profile-Based DAC Amortization

Cash Flow Ingestion

Multiple methods to ingest actuarial and actual cash flows

-Ingestion of PVs or Undiscounted CFs




-Supports as many cash flows as a client specifies, providing granularity




-Cash flow discounting can be undertaken in Aptitude Calculate

LRC

Options to configure the LRC and its sequencing

-Configurable Sequence of LRC calculation




-Update LRC Calc at Initial Measurement




-LRC Subsequent Measurement




-Investment Component

LIC

Options to configure the LIC and is sequencing

-Input – Expected Cash Flows




-Risk Adjustment Handling




-Configurable Sequencing of LIC




-LIC Initial Measure/LIC Subsequent Measure




-Grouping by Accident Year




-Run-Off Profiles

Onerous Status

Various loss component options

-Ingestion of Loss Component (Initial)




-Ingestion of LC Runoff




-Simple LC Runoff (in line with Rev Rec)

Acquisition Costs

Dealing with and accounting for the various types of acquisition costs

-Accounting to treat DAC as Acquisition Expense




-Pre-Acquisition Premiums




-Pre-Acquisition Acquisition Costs

Simulation and Forecast

Dedicated module for simulation and forecasting

-Sensitivity analyses




-LRC/LIC projection based on scenarios




-IFRS 17 balance sheet projection




-Etc…
PAA and Reinsurance
Clearly reinsurance is critical to PAA business and many of our clients are now moving into the Reinsurance phase of their projects. For both PAA and GMM treaties, the solution contains the basic reinsurance processing:
Net Loss/Net Gain/CSM
Onerous Direct Contract Processing – Loss Recovery Percentages
Direct/Reinsurance linkages
Mix Model Processing
Coverage Management
As per direct contracts we are already looking at enhancements beyond the Standard to reflect market best practice. Key topics under discussion in with our clients are multi-layered treaties, intra-group reinsurance, contract boundaries, recognition of treaties and ceded reinsurance commissions.
PAA requirements and existing UPR systems
Any IFRS 17 implementation requires the utilization of existing systems and processes which are then augmented by new systems and applications. Thus, it is critical that GIs and composites following the PAA approach have a solid understanding of the functionality they expect their existing UPR processes and systems to perform and those they expect a new application or system to perform.
Aptitude's IFRS 17 solution for PAA, comprised of the Insurance Calculation Engine and the Accounting Hub, is currently being implemented at a range of insurers globally to meet PAA requirements. In addition to our core solution, several of our clients are choosing to use Aptitude Calculate, which sits between an insurer's actuarial engine and the IFRS 17 calculation engine, to generate costs and perform insurance allocations and interim step calculations. It can be used as an automated calculation tool to generate data at the right level of granularity where existing systems do not provide it. Examples include Direct Acquisition Costs and Service/ Management Company expenses which under PAA may need to be allocated at contract and/or cohort level.
Some of our clients are undertaking certain elements of their IFRS 17 calculations by adapting their existing systems and then processing through AICE for the additional calculations while others are using AICE for all calculations. This is effectively a business choice and highlights the flexibility inherent in our solution. In both instances the resulting calculations are processed through the AAH to automate the accounting transactions and disclosures.
For more information on our IFRS 17 Solution, please visit our IFRS 17 Resources Page.