Service Stacking – Before the pandemic
To claim that service stacking is a phenomenon brought on by the global pandemic would be false. By the third quarter of 2019, service stacking was already rising in popularity. 39% of US households had three or more subscriptions before the pandemic. 22% of European households were also stacking services.  
Consumers have continued the trend of cord cutting by swapping to SVOD services and have been stacking services for a while. The pandemic has only set to accelerate the end of Pay-TV, in favor of subscription-based services. 
Current Trends
The good news for OTT and SVOD providers is that this trend is likely to continue, at least for the short term. Recent research by Parks Associates shows that 61% of US households held subscriptions to at least two services in Q3 of 2020. Half of those customers had subscriptions to four or more services. This shows a clear trend for service stacking lasting well into 2021. This research was presented during a recent webinar by MPP Global into OTT Video Consumer Trends. 
Subscribers are invested in trying new services, with OTT churn rate at 38% in the third quarter of 2020, down from 46% in the previous year. The ongoing pandemic has been considered a main feature. But the content landscape has also changed through 2020 and 2021.  

Studios are Investing in their own OTT Services
Disney+ was the first, and the catalyst. Other studios are developing their own services, such as Peacock, Discover+, Paramount+, and Starz Play, to name a few. In doing so, many are looking to re-acquire streaming rights to their own productions and retain their own original material. 
While the market becomes competitive, consumer appetite is still strong. Consumers with three or more subscriptions to SVOD services are twice as likely to subscribe to a fourth, compared to households subscribed to just one service.  

Streaming services are producing their own content
It is becoming more difficult to obtain content rights from studios with their own streaming services. In response, original content is becoming more important. This is good news for studios, as the revenue from well performing content is centralized.  

Of the major services, Netflix has led the way in terms of original content, investing $17.3bn in original content in 2020. They are aiming to increase that to over $19bn in 2021 (and have adjusted their pricing in line with this investment).  
Subscribers, on the other hand, may find that the content that was all in one place, is now split across different services. Service stacking from a content consumption means the average US household has access to over 90,000 hours of content.  
And content is still the most important factor for subscribers. 65% of US SVOD households cite content as the key driver of their subscription, with 34% looking for specific shows, and 31% valuing original programming.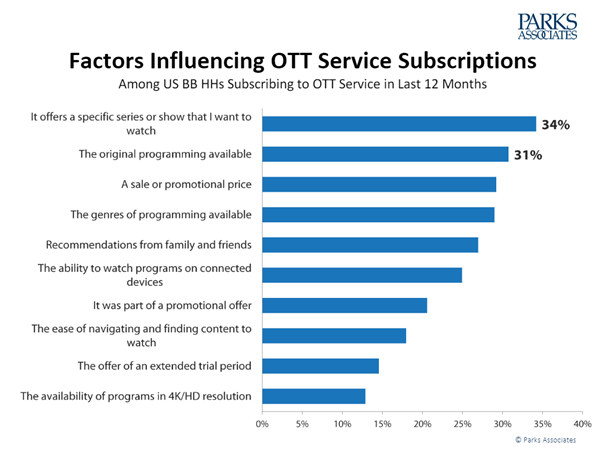 Segregation and pricing 
are also influencing churn
There are downsides for subscribers around the increasing number of services, content exclusivity, and rising prices. Research from Parks Associates found that over 26% of cancellations were due to household expenses, while another 26% were due to finishing a particular series or show.  
In terms of content exclusivity, Alexios Dimitropoulos, research manager at Ampere Analysis, said recently that "…as studios continue with their direct-to-consumer strategy, the golden age of access to cheap content is coming to a close."  
Bundling 
and partnerships 
can be a cost-effective solution
Disney+, Hulu and ESPN+ are currently available to US customers for $13.99 a month, a significant saving on the three services separately. Service bundling is a great strategy to mitigate churn and the issues around multiple, individual subscriptions. This is a great example as the services complement each other; Disney+ does not provide R-Rated content or sports, so joining forces with a sports giant and a less family-focused service provides subscribers with a rich variety of content.  
Equally, NOW offer deals on their various de–bundled services, allowing discounts for subscribing to Sports, Cinema, and Entertainment.  
This solution goes some way towards dealing with two of the biggest drivers of churn. Cost and content availability. There is certainly going to be a ceiling in terms of the number of services a household will maintain, and bargain-savvy viewers are keen to find ways to save money.  
Conclusion
The trend of service stacking in 2021 shows no signs of slowing down. Households are adapting to the separation of content and increase in services by subscribing to more than one. While cost versus content value will always be a consideration; as studios and OTT providers continue to focus on high-quality content, the trend of service stacking is likely to continue.  
Drive the revenue of those subscribers by promoting retention. Content continues to be king – look to meet the needs of subscribers by offering partnerships with other providers that fill the gaps.  
MPP Global have recently published a playbook that provides more insight into driving revenue growth for OTT services, with key trends and data from across the industry. Finally, watch our latest webinar on-demand, featuring Accedo and Park's Associates discussing actionable strategies for success in the OTT space.
We're here to help
If you are reviewing your OTT or revenue strategy, get in touch to arrange a demo of how we can unlock all the tools needed to succeed now, and in the future.
Contact our helpful team; Telephone +44 844 873 1418 or visit our contact us page.