In This Blog, We'll Discuss…
How Sports rights holders are leveraging OTT to find new and engaging ways to monetize their content
Leveraging content out of season to retain customers and prevent churn
The benefits of finding out more about your fans
---
The dawn of the streaming age has brought lots of fresh opportunities for sports rights holders to monetize their content in new ways. The days where traditional broadcasters dominated this market may not quite be behind us yet, but we're already seeing a shift towards OTT starting to take a bite of the pie, with Amazon owning Boxing Day football in the Premier League this year, while disruptors like DAZN and Eleven Sports have been snapping up rights, but what opportunities are there in this for sports leagues and federations?
One thing for certain is that we way we consume content is undergoing an enormous shift at the moment, with so many major media players about to launch their own OTT platforms, which means that we need to get used to having multiple subscriptions to watch the shows we love. Sports fans are already used to this kind of situation, with rights increasingly spread across several providers, as demonstrated by Amazon joining Sky and BT in showing live Premier League football.
Keeping Attention Out of Season
We've already seen top clubs launching their own OTT services to try and take advantage of the content they are able to produce during the summer break. For the rest of the year, their live football content is tied up in broadcast rights deals, but pre-season offers the opportunity to monetize exclusive match coverage, though the dawn of the new season heralds a struggle to prevent subscribers from churning when that content runs out.
Leagues and federations don't have that issue because they own an incredible amount of content that fans want to consume. So far, they have leveraged this content by selling the rights to broadcasters, which brings in plenty of revenues, especially at the highest levels in the most popular sports. However, this arrangement means that the relationship with the fan is between them and the broadcaster, with less direct connection to the league or federation.
Directly Marketing to Fans to Maximize Engagement
When it comes to managing a direct relationship with fans, the benefits are clear. You can only market effectively to people when you know enough about them, and this is currently an issue for leagues and federations. They may have data from people who have signed up for official websites, newsletters and fantasy games, but this will be nowhere near the kind of audience that live sports can attract.
Getting data from fans allows brands to drill down into it to see where the key touchpoints are for various levels of fans. For example, this graphic from a Deloitte sports survey shows the remote engagement percentages for 'fanatics' vs 'casual fans':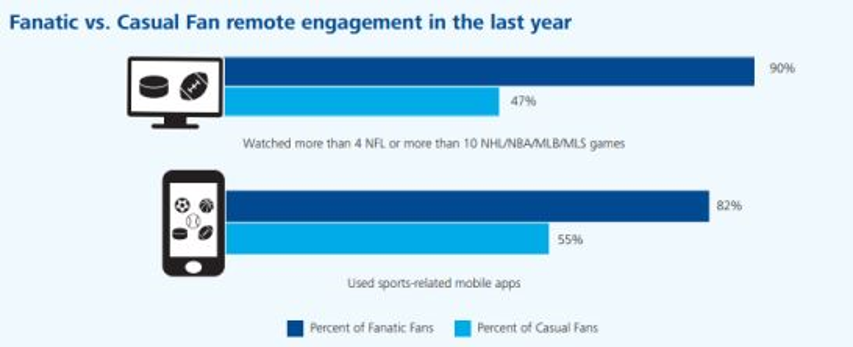 When brands can identify how their various sets of fans want to engage with them and create fan persona segments, they know where to focus their marketing energies to get the best results. The next step is to work out what kind of engagement fans want and what they are willing to do/spend to get it. Deloitte's survey covered the types of activities the two sets of fans engaged with, which is an interesting snapshot:
Finding out more about their fans isn't only useful for leagues and federations when it comes to interacting with those fans and earning their loyalty as customers. It can also be crucial for future negotiations over rights deals with broadcasters, giving more data and potential insights that can determine better valuations.
How MPP Global can Support Maximizing Channel Engagement
MPP Global can help you manage the user subscriptions and billing components of setting up your own OTT video platform or optimizing the process of an existing channel. We have a rich history in the sports OTT world, having worked with Sky Go, NOW TV, Professional Squash Association, ATP, Sky Sports and Juventus amongst other sporting clients across the world.
We help you get your subscription services up and running in time to start engaging your fans with offers and incentives (free trials, gifting, loyalty triggers and more) to help you to own that relationship on an ongoing basis, so get in touch with our sports specialists to discuss strategies on how to manage and grow fan engagement.
We're here to help
If you are reviewing your OTT strategy, get in touch to arrange a demo of how we can unlock all the tools needed to succeed now, and in the future.
Contact our helpful team; Telephone +44 844 873 1418 or visit our contact us page.