It's the time of the year when acquisition tactics are front of mind for many content owners relying on spiking their subscription revenues. With the elections in the UK and US front and center at the moment, the holiday season, and a time for non-stop sales (Black Friday, Cyber Monday, Boxing Day, the January sales, etc.), there's a definite opportunity for content owners to take advantage.
With a crowded market during the busiest spending period of the year, lots of different publishers, OTT providers, sports organizations, and content producers are using new and innovative tactics to stand out and acquire new customers.
Here's some of our favorite offers we've seen lately, with a look at how they could be achieved using Subscription Management:
Top Seasonal Offers
L'Équipe – First Month's Subscription donated to the L'Équipe Foundation

This year, L'Équipe are supporting the L'Équipe Foundation, which promotes active participation in sports. For every new subscription that is taken in December, the French sports publisher will donate the initial €1 to the Foundation.
Subscription Management can power this option through 'Free Trials' functionality, by applying a discounted first month for new subscribers. By using rich reporting functionality, it's possible to identify the number of new subscriptions, then donate the appropriate amount based on these new transactions. A simple, yet effective and worthwhile campaign that's bound to benefit the health and well-being of many people in need of support.
The Irish Times – 12 Month's Access to the Headspace app

A timely partnership offer to kick start the New Year. The Irish Times are offering its readership 12 months' free access to the meditation and mindfulness app Headspace.
Such offerings can be achieved with Subscription Management by way of a back-end 'purchase update' communication – an API that's triggered – which can be dispatched in real-time to the client after each successful purchase. This communication contains everything about the purchase, and crucially, the account details, to be pushed into 3rd party apps, such as Headspace, to create an account and activate a subscription.
Irish News & Telegraph – Give the gift of Journalism!

The Irish News is offering the option to purchase three, six, or twelve-month subscriptions as a gift. In addition, the 12-month version features an additional gift of a signed A4 Ian Knox print.
Gifting is a flagship Subscription Management feature, involving the ability to create a product that can be used to unlock access to a subscription contract. This fixed period doesn't require payment details; the recipient will only need to create an account to obtain access. Whilst 1 month, 3 months, 6 months, and 12 months are the most common options, a Gift can be configured in a wide variety of ways, allowing maximum flexibility when creating a gift subscription. A delivery address can also be included in the purchase flow, if a physical item needs to be shipped, keeping all of the recipient data in one place.
As part of the purchase flow, it's possible to configure a custom message to the recipient, personalizing the email that will be sent. The recipient will have their own account, with which they can modify their subscription, add payment details and convert into full subscribers as well as purchase additional services.
NOW TV- Christmas Offers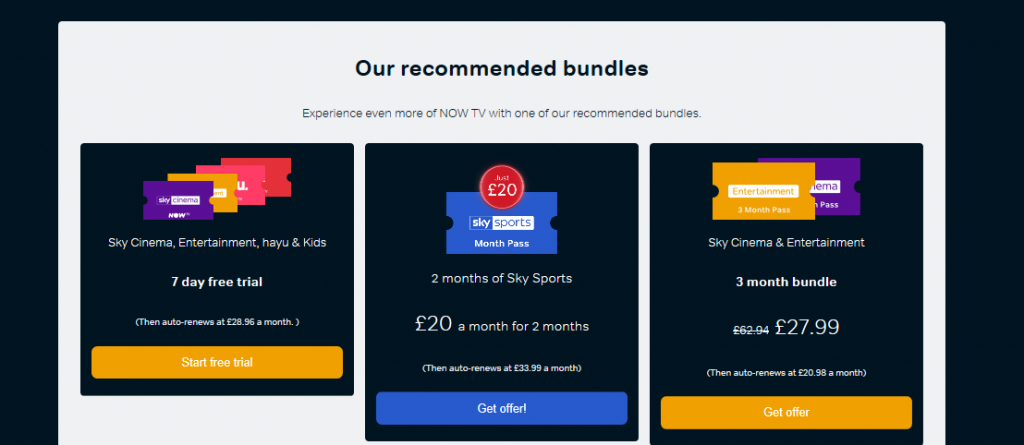 Now TV regularly features high-quality offers for existing and new subscribers, and Christmas is no different. Existing customers can claim a discount against any Pass for which they don't currently have a subscription. New customers can claim discounts on Passes on signup as well. A tried and tested, and highly successful, method of encouraging brand loyalty and acquiring new customers to one of the largest On Demand providers on the planet.
Voucher Codes have been a core offering of the Subscription Management portfolio for a long time and are one of the most flexible customization options available. Offers can be created for a specific price discount, or a percentage, and can be set to any number of periods depending on the subscription service they are configured against. They can be set for use by anyone with a voucher code or lock the offer down to existing customers only.
Mail Plus – Weekday Briefings

Mail Plus are encouraging acquisition by providing more video content for the customer's money, through their Briefings product; regularly refreshed content, and news digest that keeps readers up to date at key points during their working day. A clever productivity hack for readers on the go! In addition, their current Monthly subscription offers new customers their first month for just £1. When it comes to offers and incentives, Mail Plus has often come up with new and creative ways to acquire new customers.
This offer again uses the Subscription Management Trial Periods functionality, whereby a subscription service can offer new subscribers a different starting price, either as a discount, or a fixed amount. Configuration is simple and service-specific, so publishers can build out specific offers against their services as required.
In addition, Subscription Management Issue Scheduling functionality means that access to content can be provided for specific days and specific times of the day, and can last a set amount of time. This can be especially useful for special events or time-based special offers.
OneSoccer – Flexible Time-Based Model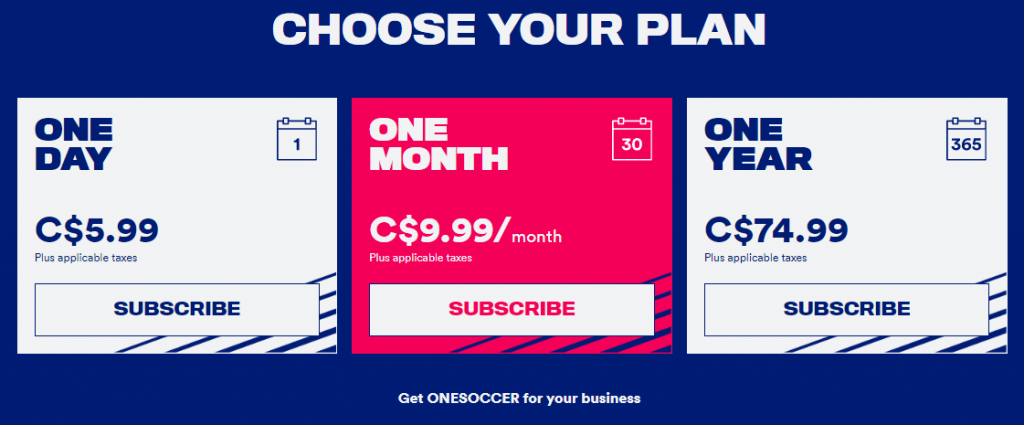 OneSoccer is a great example of how versatility can be a powerful addition to a subscription offering. They currently have a one day, one month and an annual pass. This is all customisable in the Subscription Management platform, and caters to various users' needs, allowing them to sign up to the plan that suits them. The daily pass starts at C$5.99 and then it's just under C$75 for the annual pass.
McClatchy – Free Digital Access for Print Subscribers

McClatchy's portfolio of publishers are currently offering free digital access to their print subscribers, which is not only a great acquisition incentive but a fantastic way to reduce churn by offering more to existing customers.
Combined Print and Digital subscriptions is one way in which Subscription Management can provide your customers with more flexibility and options when subscribing to different types of content under one account and payment.
Additional Strategies
Subscription Management offers many flexible and customization methods of creating offer to acquire new subscribers, which can be combined in unique and clever ways. Typical uses include:
Free Trial Periods allow content owners to provide discounted first billing periods for new customers, including completely free trials or discounted first subscription periods. It's also possible to offer No Obligation trials, where the customer won't need to enter any payment details on registration to take advantage of the offer. This is a great way of encouraging new subscribers to take advantage of an offer.
But what if you want to offer a discount to existing subscribers as well, or even to existing subscribers only? Subscription Management's offer management powerful capability enables clients to create voucher codes against products and services, that can be redeemed in broad, or very specific ways. Offers can be configured to provide customers with a set percentage discount (50% off), completely free (100% off), or even set amounts (one month for just £/$/€1) depending on the acquisition strategy and market research. These can be locked to specific existing users, or to new users – or both. Offers can also be without obligation, so a customer can enter a code, some basic personal details, and get access to content easily.
This is great if the customer is looking to purchase for themselves, but at this time of year, it's likely they're buying for someone else. Gifting functionality in Subscription Management allows customers to purchase specific services, at set prices and periods, for other users. That recipient will receive a voucher code which will allow them to obtain access to content without requiring payment details. Let your customer base do the acquisition for you, so all you need to do is concentrate on conversion and retention – which MPP Global can help with too, but perhaps that's a story for next year!
Next Steps
Check out our Webinar on paid content strategies that work for more information on Gifting.
We're here to help
If you are reviewing your digital revenue strategy, get in touch to arrange a demo of how we can unlock all the tools needed to succeed now, and in the future.
Contact our helpful team; Telephone +44 844 873 1418 or visit our contact us page.